Residential
Professional Site Contractors
Monroe Twp, NJ, 08831
NJ License # - 13VH01202600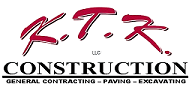 KTK produces the highest quality work, especially when it comes to residential driveways. We use nothing but the highest quality materials at greater thicknesses then any of our competition.
Driveways need a good foundation (base) to last, just like a building. KTK uses approved highway grade base material in all their driveway construction. This base material is installed and compacted to a near solid state that is more then suitable for the average automobile. A good solid base, compacted tight and free of loose stone, is the key to having a long lasting driveway. For an even longer lasting job, a commercial grade driveway base can be installed using an asphalt base material. This will cost a little more but will out last any other driveway construction.
The asphalt used on the final riding course of the driveway is Hot Mixed I-5 roadway quality. It is the same material used on all roads and highways. KTK installs every driveway using our top-of-the-line new equipment to guaranty quality and accurate thicknesses every time.
With the proper construction practices stated above and the proper maintenance schedule for an asphalt driveway, a KTK asphalt driveway will last a very long time.
Our resume' is full of complete driveway reconstructions. We have years of experience dealing directly with homeowners and meeting their needs and budget every time. We also have experience with residential driveway construction working directly for some of the elite custom homebuilders throughout New Jersey.